SPORTS TEAMS and GROUPS 
We are not your typical team photographers. We want to capture images of your athletes that won't sit in a drawer (because we know you have a lot of those already)  So your team and individual photographs will incorporate your gym, the locker room, or any place you think would be an interesting backdrop to add some character. Many of our teams utilize our digital composite process for their team photos and banner. We photograph each player individually and then create the "TEAM" photo digitally in photoshop. 
---
PRODUCT GUIDE
Here are some of our most popular products. Custom sizes are available upon request.







TEAM BANNERS
(Pricing is for up to 24 players. Add $5 for each additional player)

4x8ft Vinyl Banners $395
5x10 ft Vinyl Banners $425

6x12 ft Vinyl Banners $450

(longer sizes for larger teams like soccer/baseball)
5x15 Vinyl Banners $450
---
Team Banners are a great way to make your athletes feel like rock stars!  Hang them along a fence or in the gym. We photograph each athlete individually and then composite those images into an edgy and exciting piece of art work. By using this method, each athlete is lit beautifully and will look amazing blown up on a large vinyl banner or poster.
Not only are we experienced photographers but we are also long time graphic designers who will create your  custom art piece with an eye for the details that make your images realistic
Individual or senior banners
2X3   | $65 
2X4    | $65 

3ft x 6ft | $95 

If you are only interested in having senior banners done without ordering a team banner, please contact us for alternate pricing
Many teams feature their Seniors or Varsity players with individual banners that can hang alongside the team banner in the gym or on the fence.

SCHEDULE POSTERS
HEAVY CARD STOCK POSTERS
Sometimes you don't need a large vinyl banner for  your team - Posters or Schedule Posters are a great alternative or a great add on.
We use the same photography and graphic design process to produce our posters as we do our team banners so your final product will still be a beautiful custom art piece. Some teams sell sponsorship ads to defray the cost and post them around town in local businesses. Some schools use them as a fundraiser and sell them to students at school.
POSTERS
(50) 18"x24" posters | $425 ($175 for additional sets)

(50) 12"x18" posters | $375 ($150 for additional sets)
---
ADD ON POSTERS                                                                
   (if you have already ordered a team banner we can use the same art work which cuts your cost)
(50) 18"x24" posters | $225

(50) 12"x18" posters | $175
 SENIOR GIFTS
Your options are endless! Let us create a special print, poster or whatever you need for a thank you gift your coach or senior players will love!
Prices range from $10 gift prints on up
STANDARD TEAM & INDIVIDUAL PHOTOS
For many of our schools we simply do a standard team and individual session. We never charge a session fee and we distribute order forms that can be emailed out to parents and players to bring back on photo day. We love to incorporate your school's unique backgrounds into your images or we can also bring in solid color drapes to use for a clean simple look.
Our team and individual print packages start at $35 or your athletes can order a la carte and choose their own products
SOCIAL MEDIA & HEADSHOTS
Because we know how important social media is to our sports teams, we always supply our coaches with complimentary digital images with publishing release so they can advertise their teams on their school websites and social media accounts.  Images are sized specifically for each social media platform so they will display at their very best. Standard image sizing for Facebook, Twitter and Instagram are included.
For our high school teams, we also supply  coaches with digital sized versions of varsity player head shots that can be uploaded to MaxPrep, Hudl, and various recruiting websites their players may use
Not just sports!! - We love to capture all kinds of groups!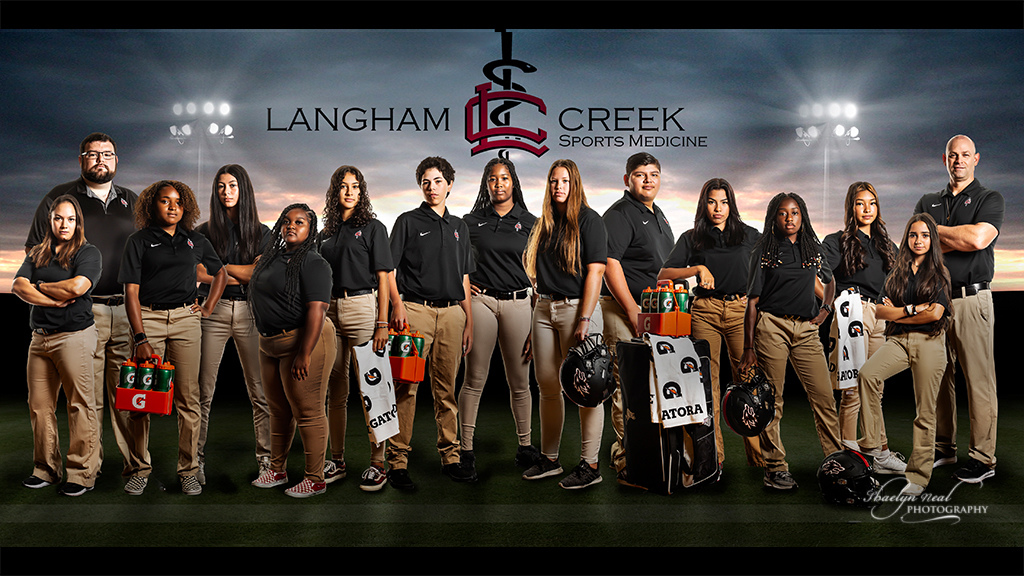 SPORTS PORTFOLIO
Check out our slideshow to see samples of our work from the many area schools that we work with 

Inquire about booking your team session 
Use the button below to request session dates. 

PACKAGE PRICING
Have questions or want to see a sample of our package pricing?  We sell our photos through an online web gallery  a la carte so parents can choose exactly what size prints fit their needs. 5x7 prints start at $15 each. 
Click on the button to request more information
About Me
I am a portrait photographer located in Sugar Land, TX just outside of Houston. I specialize in Sports and Senior photography and cherish every single one of my clients. I love watching my sports clients as they grow through high school and celebrate their accomplishments as much as they do. We can often be found watching local games, cheering on athletes as they sign their college offers and creating special moments for our teams when they celebrate their team milestones. Every piece of art is created by me personally to uphold our high design standards. 
Let us create the images that reflect your team's hard work and dedication.