let us help you freeze time.
PRINTED ART SHOWS YOU ARE LOVED
There's nothing like feeling the heft of a bound album, and watching your kids grow with every turn of the page. Or the joy of walking into a room immediately greeted by your loved ones beautiful, happy faces on your wall every single morning. Studies have even shown that displayed portraits give your children a sense of belonging and feeling cherished, which in turn boosts their self-esteem.

We're thinking of the long run; of your legacy. We create a record of your family history - portraits that your children subsequent generations are able to confidently keep, touch and look at for years because they are created with love by master craftsmen using the finest, archival-grade materials. We want to show you the beauty of investing in real, tangible portrait art. 
Interested in booking a photography session? Let's chat!
Get In Touch
DCPG BABY PORTRAIT EXPERIENCE
We are full-service, geared toward busy parents who would rather we take the reins in getting portraits made and printed. Our process involves a lot of face-time because we like to spend time guiding you through the whole process.
First, we meet!  Before you book, we like to sit down and design your portrait session with your display goals in mind. This quick 30 minute meeting is a wonderful way to see if we're a good fit, see our portfolio in print, feel our amazing products, talk schedule/logistics, and have all of your questions efficiently answered. Skip the 15-thread email and come chat with us instead!

The fun part - our session with you. All of our newborn sessions take place in our Virginia Beach studio. The best time to take newborn photos are within the first three weeks.  Most of my babies have been about 10 days new - you're a little past the initial new baby chaos and the baby is still young enough for those sleepy poses.  For milestone photography, instead of attaching an age, I like you to bring your baby in when they are sitting, then standing/walking.  

A week or so after your session, we'll meet again in the studio for your reveal & purchasing appointment.  We'll go through all your favorites and based on what you choose, I'll make recommendations on what products would fit best.  You only buy what you love and then we will take it from there.

Product delivery day! Depending on the handmade nature of our products, most of our artwork will take four to six weeks due to editing, production and shipping.  It is worth the wait and will make beautiful decor or mementos in your home.

DCPG Baby & Newborn Portfolio
click/tap to view bigger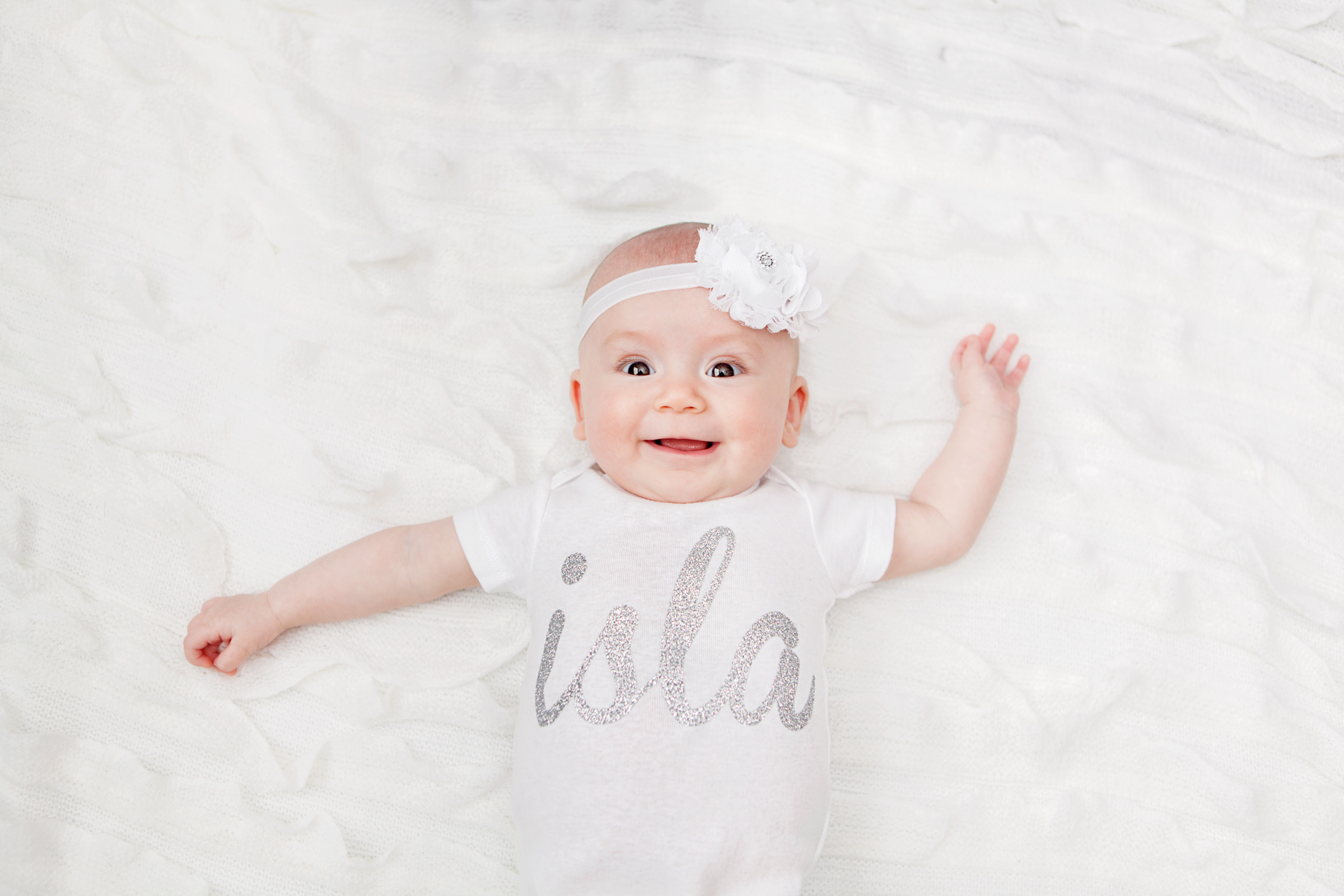 INVESTMENT
sample collections
The following collections are based on our most popular baby plan which includes the newborn session and 3 additional sessions (I suggest maternity, sitting and standing/one year). We would love to create a custom collection to suit your needs!
$1500
Newborn Session + 3 additional mini sessions
16 x 24" Wall Art
Folio featuring four prints
15 digital files
$2000
Newborn Session + 3 additional mini sessions
20 x 24" Wall Art
Portrait Box with 10 matted prints
20 digital files
$2500
Newborn Session + 3 additional mini sessions
20 x 30" Wall Art
Modern Album with 25 images
25 digital files
$3500
Newborn Session + 3 additional mini sessions
Modern Album with 35 images
Four 16x20" OR one 30x40" Wall Art
35 Digital Files
*This can be on standard canvas, framed, metal or wood print or upgraded to Museum Canvas for an additional cost.
appointments
.  We are available after 10am to 4pm Monday to Friday. Saturday appointments are available on a limited basis as we reserve those for out of town clientele or family time.

Portrait Artwork
You only buy what you love and we'll be there every step to help guide your decisions.  Our wall art starts at $200 and most families invest anywhere from $500 to $3k on their artwork. 
Not in the 757? We travel - contact us for information! Your session fee covers our time with you designing your session, photographing your session, and revealing and proofing your images. Session fees do NOT include products or digital files. 
PROPS & DIGITAL BACKGROUNDS
In our portfolio, you'll see some very ornate, flowery images - those are digital composites! My actual setup is very simple and neutral so that I can choose an image or two for these fancy Artisan Edits. These were a huge hit last year - if you have a color or flower you love, let me know so I can search for the perfect match. There are gender neutral designs, as well  Prior to your session, I will email you an extensive questionnaire where we compile your color and posing preferences. 
Props & Outfits
Studio newborn sessions give us the most variety. I have access to a lovely Virginia Beach studio with a dedicated newborn room full of baskets and lots of wraps to supplement my own stash. Also, this studio has bedrooms that you can fully take naps in while I photograph your baby. Take advantage!
If you have small sentimental items you'd like to incorporate into your session, you're more than welcome to bring them.  If you have a theme and/or outfit you want to try, let me know a few weeks ahead of time and I will find an elegant, high-quality piece to wear or backdrop to use.  
CLICK HERE for our currently available props, blankets and digital backdrops!
DCPG Portrait Artwork
We offer many beautiful heirloom products to display your images on your walls and tables as portrait art. Most artwork starts at $200; contact us for quotes.
Wall Art
If you're looking for a showstopper piece - a large canvas wrap is the way to go.  These canvases arrive ready-to-hang and can be created in almost every size imaginable, so they are perfect to fill up any wall.  We also offer wood prints, framed prints and metal prints. 
Album
If you love all your portraits and must have them, the luxury album is the most beautiful way to do so! Your custom designed flushmount album features hardback, layflat pages printed on photographic paper with a choice of genuine or faux leathers, and fabric covers. 
Portrait Box
A lovely alternative to an album, this luxe European-made portrait box features your favorite ten prints white matted to a final size of 11x14".  We can always add more portraits from future sessions to this box! The top of the box can be laser engraved for ultimate customization.  The portrait box is also available in a smaller 8x10" size.
Matted Folio Displays
For table display, we slip 3 deep matte prints into this matted folio display.  Many of our families have been using this as a grandparent gift and it's a huge hit.  If you'd like to show off more prints than the folios allow, we also have matted albums.  
DCPG Full Product Gallery
click/tap to view bigger
HI! I'm Ciesther and I'm a mom of 3 as well as a newborn and baby photographer with over 10 years of experience.  DCPG Photography is a family business and has been proudly bringing our portrait, wedding and commercial photography to Hampton Roads and beyond with love since 2005.