Tip 1
Take a Road Trip!
We can create beautiful portraits in your own backyard - but we don't have to! There are so MANY incredible locations within a 90 minute drive of the High Country. We have created senior portraits in dozens of the most stunning places. Options might include: long range mountain views, grassy fields, a sea of wildflowers, rustic cabins and fence lines, old rock walls, black iron decorative fencing, edgy urban, architectural sophistication, historic and eclectic locations...  Let's hit the road!
Tip 2
Use Your Own Back Yard!
Not everyone has this beautiful rocky and gently flowing river in their backyard like this lucky senior, but your own yard might be just the place to create your portraits. We'll give you our best advice - just ask!
Tip 3
Stay at Home!
The neutral furnishings and beautiful window light made this sun room the perfect location for creating this timeless, classic portrait. After we finished in the sunroom, we moved outside to the back deck where there was some beautiful ivy growing up the railings. It's easy to think you need the most spectacular scenery but that's just not always the case!
Tip 4
Bring your gear!
Does your life revolve around your sports/dance/cheer season? We're happy to incorporate some of that gear into your session! Bring your balls, racquets, sticks, bows, uniforms, gloves, clubs...we can even shoot your session where you play the most whether that's a baseball field or a gymnasium!
Tip 5
Let's Jam!
Bring your instrument and we'll create a portrait that really shows what you're all about. We've even photographed a senior with his grand piano. Let's make it happen!
Tip 6
Bring Your Wheels or Your Dog! Or Both!
Do you want to always remember the excitement of having your first wheels? There's nothing like the feeling of the open road ahead. Let's put your sweet ride in the portrait with you!
Maybe you love your wheels AND your dog! We've photographed lots of pets and are happy to include yours.  
Tip 7
Tug the Heartstrings!
Connect with something sentimental to you. It could be a piece of jewelry that belonged to someone you love, maybe it is the old bible that you've grown up with that has the names of past generations of your family written in the front. What about your little stuffed bear you've had since you were a baby? Perhaps, like this senior, you'll bring a quilt made by your great-grandmother who you're named after. Melt our hearts - bring it with you and we'll make it a part of your portrait because it's been a part of you!
Tip 8
Accessorize!
Sunglasses, hats, jackets, scarves, boots, jewelry can add a spark of fun or drama to your portraits. You've heard "less is more", well in this case MORE is best! Bring it along and if we can use it in your portrait, we will! 
Tip 9
Bring Your Friends!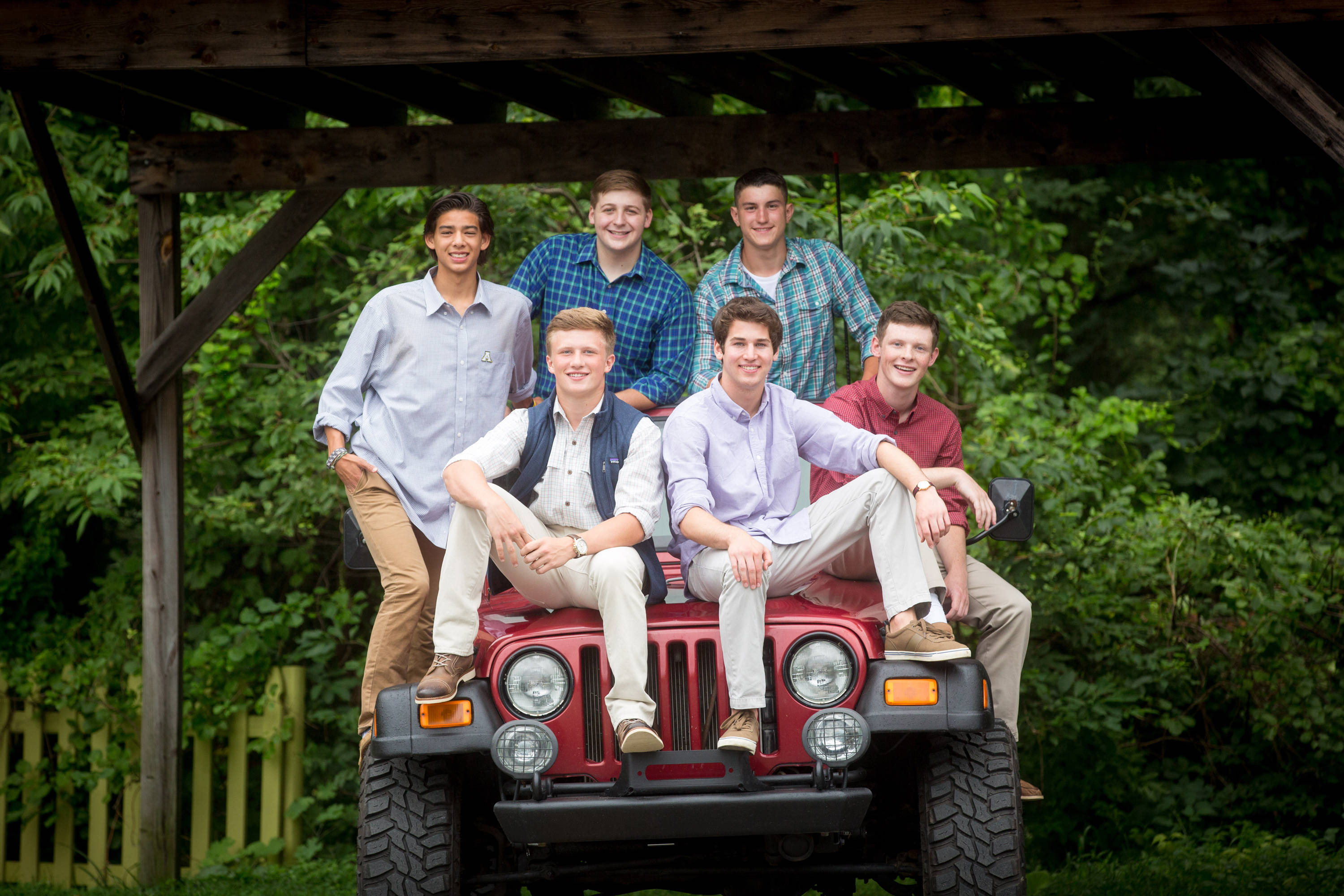 This is where the most fun begins! Have you been hanging with the same crowd since 6th grade? Lots of seniors share their session with a group of their best friends (minimum 3, maximum 6). We'll create a collection of proofs for each senior and we'll also create some images of everyone together. Special discounted pricing applies since your'e sharing the session - we're happy to supply more details! (Use the button at the bottom of this form to contact us.)
Tip 10
Have FUN!
Having your portrait made might sound intimidating but you can trust us. We've photographed dozens of seniors and we know just how you feel! We'll help you be your most relaxed and confident self. No worries - we've got this! We won't just be creating amazing portraits, we'll be creating an experience that you'll love.
It's SeNior Portrait Season!
ARE YOU INTERESTED IN SENIOR PORTRAITS?
Award winning photographers and portrait artists, Jonathan and Bonnie Burton create dozens of senior portraits each year. Do you want to find out more about the amazing portraits they can create for you? Click the button below and receive information about senior portrait sessions.